Stony Brook Travels to Bermuda for 4th Straight Year
Stony Brook University has officially announced their attendance at the 2019 Bermuda Intl 7s tournament this March.
Jerry Mirro, Stony Brook Head Coach, reported, "We look to bring a strong team to Bermuda each year. The kids enjoy the competition and have a real opportunity to bond with the other teams in the tournament. We've made strong, lasting relationships with many of the local Bermudians that we see year to year."
2019 will mark Stony Brook's fourth consecutive year attending the island tournament.
The Competition
Despite their reputation for hard-fought wins in Bermuda, the Seawolves will be facing off against other veteran teams and division champs from a variety of conferences.
"There are no easy games - you gotta wear your pants every match," Coach Mirro recounts.
In 2016, Stony Brook defeated Columbia University (26-5) and Norwich University (19-0) in pool play before a tough Friday night loss under the lights to Dartmouth by a score of 17-10. Stony Brook came out strong Saturday by defeating a formidable Notre Dame College side by a score of 24-17 in the quarter finals. The semis pitted home team Bermuda against a now rolling Stony Brook University. In a hard fought contest, Stony Brook defeated the Bermuda Selects (12-5), setting up a rematch against Dartmouth. Dartmouth was too much for the Seawolves though, winning 22-7 in the championship match.
"Playing Dartmouth in the 2016 finals was so memorable it keeps us coming back year after year..." Mirro added. "And every year the tournament has gotten better. Kutztown always brings great competition, along with Iona, Rowan and Notre Dame."

For the 2019 tournament, several universities have already committed to compete for the Cup. Stony Brook Men is just one of the returning teams making the trip next March. See a full list here »
Staying in a Pastel Paradise
Famed for its stunning pink sand beaches and world-class golf courses, Bermuda is a pastel paradise. The island is chock full of palm trees, winding roads, and endless ocean views.
In the middle of it all, on the south shore, is Warwick Camp. Warwick Camp is the chosen housing for many visiting rugby teams. 
"The barracks are great for team bonding, my boys love the concept," Mirro stated. The team meal plan includes three meals a day, served at the Barracks. Teams meet for meals at the same time everyday, giving them a chance to sit with the teams they'll be playing. "Many students create extended friendships among the players from different schools. They keep in touch until they meet again on the island next year. It's great camaraderie."
The Barracks are located right across from Horseshoe Bay, just a short walk from the the #8 beach in the world rated by TripAdvisor in 2017. Horseshoe Bay Beach is full of fun-filled activities, with rental equipment easily available for anyone who wants to snorkel or surf.
Exploring the Island
Getting around Bermuda is an easy feat, with transportation readily available everywhere. Visitors can easily travel from one tip of the island to the other in less than an hour. With such accessibility it's easy for teams to have time to explore the island without missing out on valuable practice time.
Mirro is always gives his team some down time to explore; "Some of the upper classmen rent scooters for a day and zip around the island exploring trails, beaches, and caves... We also make a point of taking a trip across island each year to the Bermuda Aquarium, Museum and Zoo in Flatts Village."
The Aquarium showcases more than 200 species of fish and delicate marine invertebrates from shallow coastal waters, and a spectacular 140,000-gallon northern coral reefs exhibit which showcases live corals and large predatory fish, including sharks and a black grouper. The Zoo displays over 300 birds, reptiles and mammals from oceanic islands in lush, naturalistic exhibits with coastal walkaways and beautiful water vistas.
There's never a shortage of things to do in Bermuda. With adventures around every corner, visitors can cliff dive off Clarence Cove, climb to the top of Gibbs Hill Lighthouse, go swimming at Jobson's Cove, visit the historical town of St George's and more!
Register for the 2019 Bermuda International 7s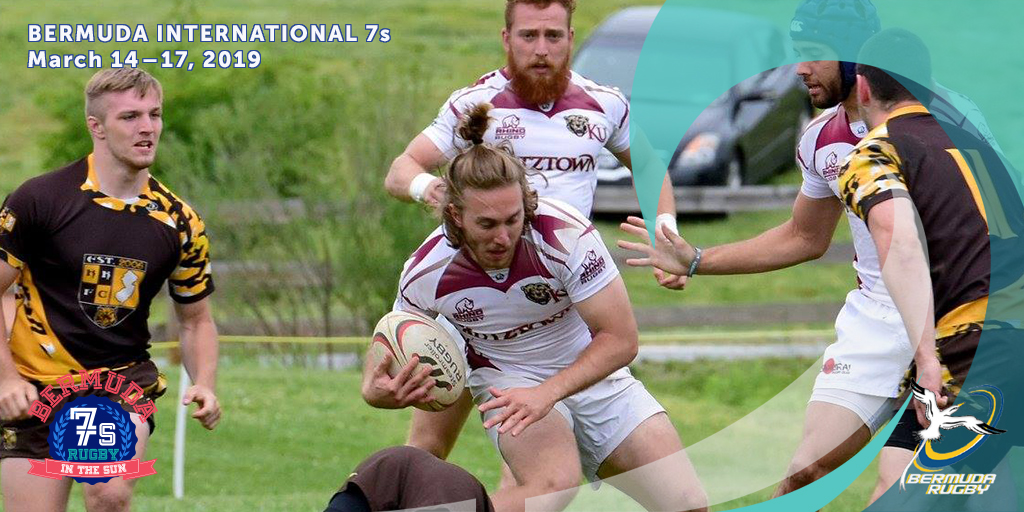 Bermuda is an idyllic island full of beautiful sights and great rugby. Join the very best in high school and college rugby this March at the National Sports Centre, Bermuda's premier sporting event venue. The 2019 Ariel Re Bermuda International 7s hosts mini teams (ages 9-12), high school teams, collegiate men's and women's sides.
Unsure if you'd like to attend? Just ask yourself: #WhyNotBermuda
Contact Stephen Siano, siano@urugby.com, 610-389-4474 for information regarding entering a team in 2019.
USA Islanders Rugby Team Topics
All USA Islanders Rugby Team Topics