Join Bermuda's Weekly Summer Street Party!
If you are familiar with the City of Hamilton then you know that every Wednesday night (May through September) the restaurant-lined zone along Front Street is closed to traffic and transformed into a pedestrian block party.
 Both locals and visitors alike flock to the Harbour Nights after sunset to enjoy Gombey dancing, Bermudian art and delicious street food.
First time in Bermuda? No problem! Harbour Nights is a great intro to Bermudian music and culture, not to mention a fun time!
Here's just a few things to expect.
Dancing in the Streets
Bermuda's famous Gombey dance troupes groove their way down Front Street to the infectious sound of goatskin drums, beer-bottle fifes and tin whistles. Decked out in colourful costumes and headdresses, dancers reflect the plumage of tropical birds. 
The Gombeys combine West African, Bermudian and British traditions into a fascinating and spirited dance. The rhythm of Gombey dancing is energetic and grows gradually swifter depending on energy of the spectators.
It's traditional to toss cash and coins at the feet of the Gombey dancers. The performers appreciate the donation and use the money toward making sure their elaborate costumes stay in top shape!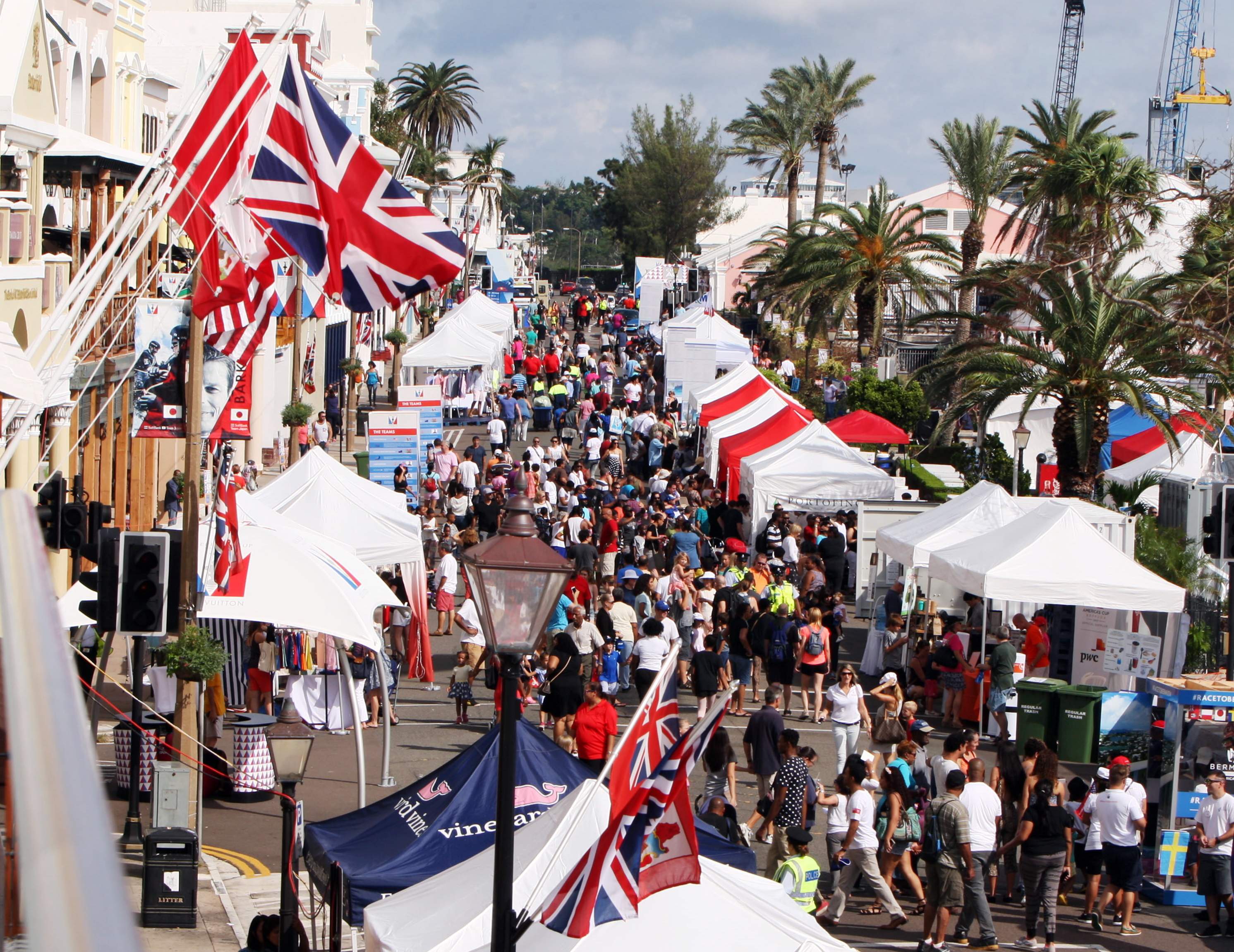 Island Art
Due to its impressive natural beauty, Bermuda has also been the perfect subject for any artist. 
During Harbour Nights, local artists and craftspeople show and sell their island-inspired wares, from beautiful watercolors painting to intricate handmade jewelery. The stores on Front Street also have extended hours, generally staying open until 9:00pm.
Local Flavors
There are also a number of food trucks and restaurants selling different kinds of food - both Bermudian and ethnic - throughout the evening. Follow the enticing aromas and sample local delicacies like Hoppin' John, fish chowder, deep-fried donuts or tasty international street food offerings.
If you plan to eat dinner in Hamilton on Harbor Night, make reservations and come early. Choose a restaurant with a balcony facing the Front Street and the harbor. You will be able to watch the whole festive below with a backdrop of the beautifully illuminated harbour.
Children's Court
Never fear, this festival is completely family friendly! There are lots of activities for children in the Children's Court, including fun castles in all sizes, the ever-popular train, face painting, tattoos and hair braiding.
Front Street During the Day
The waterfront promenade is the heart of the capital, where quaint colonial buildings painted in pinks, yellows and blues overlook the harbour.
Hamilton is an international business hub, so you'll spot banks and offices tucked among the myriad of restaurants, pubs and retail shops that sell everything from high-end fashions and jewelery to souvenirs and, of course, rum!
And if you stick around, you will be able to watch the sun set unhindered over the harbour and toast to a perfect summer evening in Bermuda.