AIC / Kutztown Win 2018 Ariel Re Bermuda Intl 7s
In a surprise finish, AIC, narrowly defeated Bermuda in the women's final. The close finish electrified the hometown fans as AIC had dominated play all weekend. In the men's final, Kutztown controlled the tempo and the final victory was seemingly never in doubt. KU 24 - Bermuda All-stars 12.
After intense pool play on Friday, team returned to the pitch for a great day of rugby. And with local fans cheering them on, a Bermuda team from each division made it to the men's and women's Finals. An all Bermuda HS Final showed off the acceleration of young rugby skill on the island of Bermuda. Bermuda rugby is on the rise as Beyond Rugby defeated Warwick/BI 7-5 in the Final.
Men's Scoring
On Day 2 Kutztown University took to the field wth renewed vigor, after an uncharacteristic Day 1 pool defeat to Ohio State, as they plowed through the competition to make it the Finals for the second year in a row. After defeating a skilled Ithaca squad (45-5) and Notre Dame (19-5) in the semis, Kutztown went on to face off against the Bermuda All-stars that ended in another tournament victory for the Golden Bears, final score 24-12.
Notre Dame and Ohio State (both teams which ended Day 1 at 4-0 in pool play) competed for 3rd place. In an extreme close match, Notre Dame pulled out on top, winning 12 - 7. 
Colgate, Ithaca, Albany, Stony Brook, St. Joes and Rowan all finished the day with a series of close games, most notably Stony Brook (15) over St. Joe's (14) in the Bowl Semis. Ithaca defeated Albany 20-10 in the Shield Final. Stony Brook took the Bowl with a decisive 22-14 rematch victory over Rowan. Rowan had defeated the Sea Wolves on Day 1 in pool play.
Women's Scoring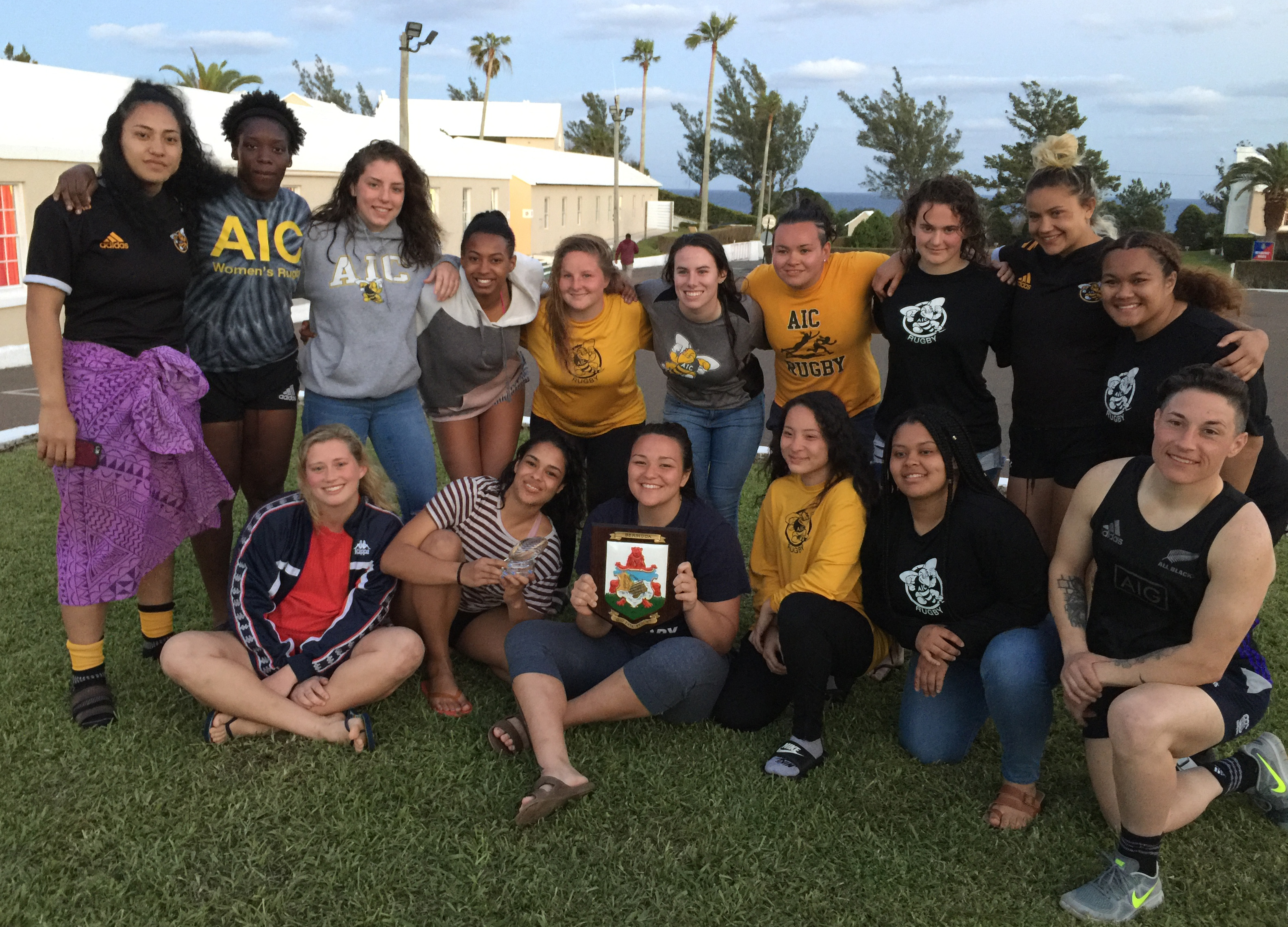 Despite being the first year Ariel Re Bermuda Intl 7s hosting a women's division, the crowd fevorishly cheered on their favorite teams. American International College continued their winning streak straight through to the Finals where they faced off against the Bermuda Women's Collegiate All-stars. In a nail biting match, AIC came out on top, winning by just 2 points, to claim the Cup.
Ithaca finished in 3rd place by defeating Colgate I (24 - 12). Colgate lost to AIC and Ithaca fell to the Bermuda Collegiates in the Cup Semis. 
High School Boys' Scoring
Beyond Rugby Bermuda I caught a second wind on Day 2, pulling through with a win against visiting St. Thomas High School from Houston, TX (27 - 10) in the Semis before moving on to face off against local rivals, Warwick Academy/BI. Beyond Rugby showed off their chops in an impressive display of talent, defeating Warwick/BI 7 - 5 in a great hometown contest.
Saltus moved on to the 3rd podium after a tight victory against St. Thomas, final score 12 - 10. 
USA Islanders Rugby Team Topics
All USA Islanders Rugby Team Topics